Put your family in position to pay for care when you need it.
---
With this partnership, you will enjoy additional features and benefits.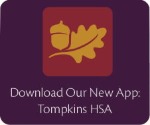 To log in for the first time, please visit https://tompkins.lh1ondemand.com, click new user, and complete enrollment starting on April 13.
For more information, including how to log in for the first time, how to enroll, and to review our user guides, call 1-888-273-3210.
Injuries, illnesses and care for chronic conditions can leave your family stressed and household budget strained. But there's a good way to hedge against big medical bills. A Health Savings Account lets you set aside money for future doctor, vision, and dental costs while enjoying tax benefits and earning competitive interest.  Access to your Tompkins HSA portal:
Track medical expenses and maintain images of receipts
Pay your medical providers right through the portal, similar to online bill pay
A mobile app
Account activity notifications
Ability to add your Tompkins HSA Debit Mastercard to Digital Wallet
Online tools, resources, and financial education to help you make the most of your HSA
Integrated investment portal, meaning only one username and password to remember
Automatic transfers between cash and investment accounts, so your funds are always
Available and you don't need to remember to move funds between accounts
Easy access to your funds with your debit card and direct deposit online distributions

Questions? Please contact Customer Care at 1-888-273-3210. 
Tompkins Consumer HSA Guides